O Boletim Económico (BE) de dezembro do Banco de Portugal (BdP) mantém a previsão da variação do PIB para 2021 nos 4,8%, face à projeção publicada no Boletim de outubro de 2021 e revê em alta a previsão do crescimento do PIB para 2022 em 0,2 p.p. (de 5,6% na previsão do BE de junho para 5,8% na previsão do BE de hoje).
No que se refere ao Índice Harmonizado de Preços no Consumidor (IHPC), as previsões do BdP para 2020 são de 0,9%, mantendo as previsões do Boletim de outubro.
A taxa de desemprego para 2021 foi revista em baixa para 6,6% de 6,8% no BE de outubro.
Relativamente à Balança Corrente e de Capital (em % do PIB), o valor foi revisto em baixa em 0,8 p.p. para 2021 (de 1,0% em outubro para 0,2%).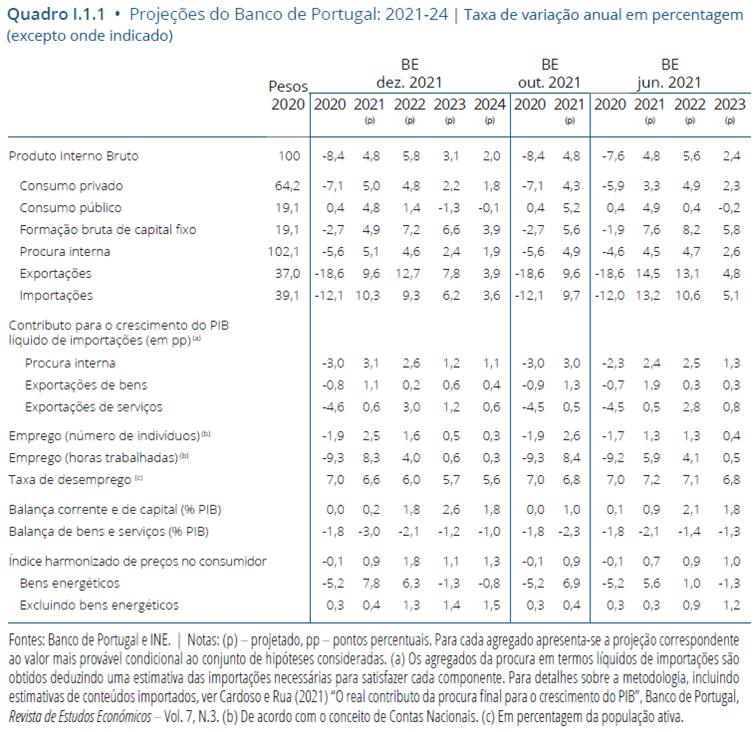 (Tabela: Banco de Portugal)
Documento PDF