O Travel and Tourism Competitiveness Report 2013, do World Economic Forum, hoje divulgado, coloca Portugal na 20ª posição (num total de 140 países) no ranking do Travel and Tourism Competitiveness Índex (TTCI) 2013, descendo 2 lugares quando comparado com 2011. O top 5 é ocupado por países europeus, nomeadamente Suíça (que continua a liderar), Alemanha, Áustria, Espanha e Reino Unido. Face aos parceiros da UE27, Portugal detém a 11ª posição (mantendo a posição neste ranking), situando-se à frente de países como a Dinamarca, Luxemburgo, Itália e Grécia (ver quadro).
O TTCI pretende medir os factores e as políticas que tornam atrativo desenvolver o sector das viagens e turismo nos diferentes países. É constituído por 3 sub-índices e 14 pilares.
Considerando os três sub-índices do TTCI 2013, Portugal encontra-se relativamente melhor posicionado nos de recursos humanos, culturais e naturais (19ª posição em 140 países) com destaque para o pilar dos recursos culturais (13ª posição) e sustentabilidade ambiental (15ª posição), e menos favoravelmente no ambiente de negócios e infra-estrutura (27ª posição), com destaque para o pilar de competitividade de preços (108ª posição). Contudo ao nível do pilar de infra-estruturas turísticas ocupa a 16ª posição.
Importa realçar que ao nível de sub-pilares, ocupa a 1ª posição na retificação de tratados ambientais e no acesso ao saneamento e a 4ª posição ao nível da qualidade rodoviária e na aceitação de cartões VISA.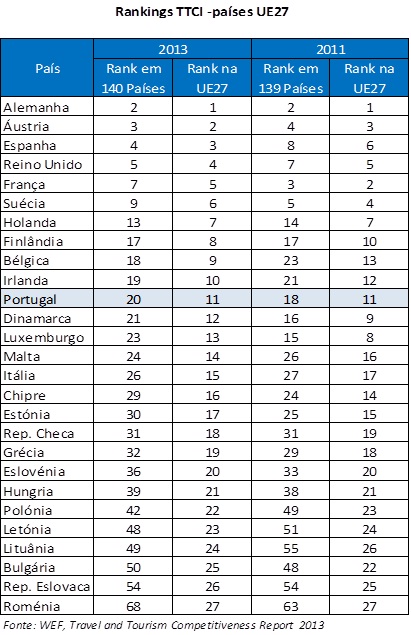 TTCI, Sub-índices e Pilares para Portugal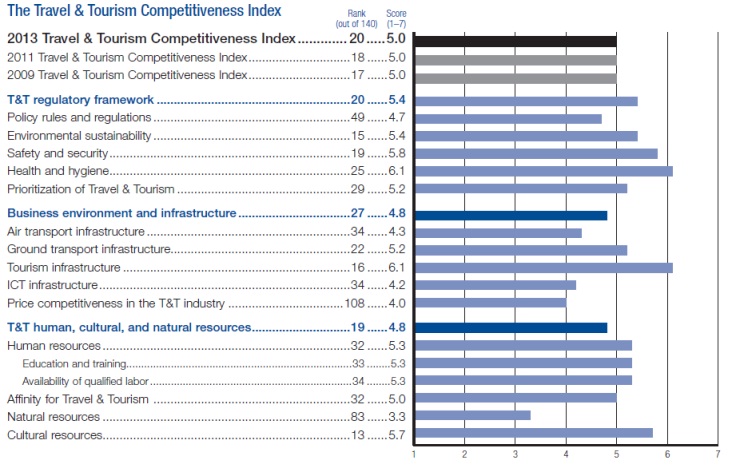 Documento Original PDF