O relatório Doing Business 2018, publicado hoje pelo Banco Mundial (este ano sob o tema Reforming to Create Jobs), revela que Portugal ficou na 29.ª posição (em 190 economias) no ranking Ease of Doing Business. No contexto da UE28, Portugal ficou em 13.º lugar, seguido de países como a República Checa, França e Holanda.
As dimensões onde Portugal apresenta melhores resultados são Trading Across Borders (1ª posição), Resolvency Insolvency (15ª posição) e Enforcing Contracts (19.ª posição). Inversamente, as dimensões onde Portugal apresenta piores performances foram Getting Credit (105.ª posição), Getting Eletricity (58ª posição) e Protecting Minority Investors (57.ª posição).
Este ano, o ranking global surge liderado pela Nova Zelândia, seguida da Singapura e da Dinamarca.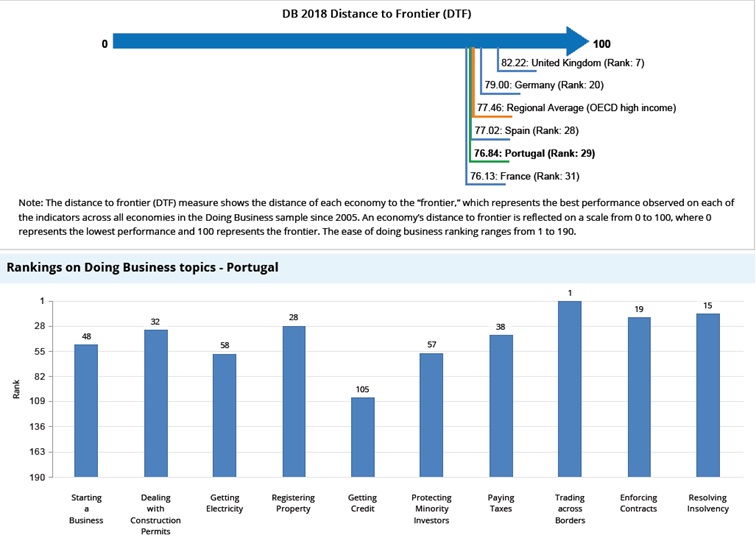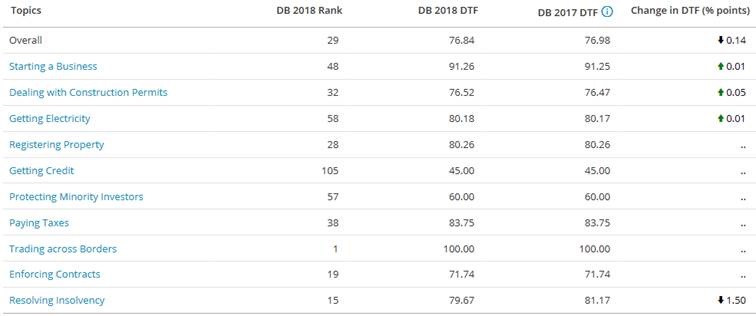 (Tabela: Banco Mundial)
Nota: apesar do relatório ter ser divulgado hoje, às 14H00, a informação ainda não se encontra totalmente disponível (nomeadamente a relativa ao ano anterior – o que permitiria analisar a evolução de Portugal no ranking).
Documento Original PDF